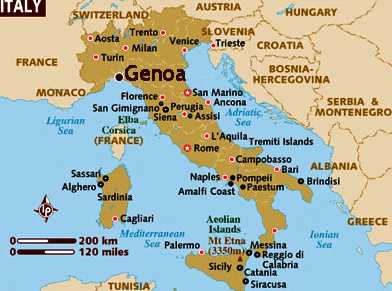 I was there with my wife. We left Lucerne, Switzerland and we went to Rome traveling at night. We were traveliing with Eurail-pass in first class. At night, around two in the morning a dirty and smelly guy came into our cabin. Luckily, I was awake . There was no doubt in my mind what his intentions were, he was going to rob us. Since I stayed awake he left. I saw him with another complice staring through the windows at other cabins.
In the train I went to the bathroom and I was amazed to see the ground below in the toilet. All human waste was ending up on the tracks. Italy never ceases to amaze me. I had to tell my wife. This was something that you expected in a third world country not in Italy.
We arrived in Rome, I had heard that Gypsies often come to you and put a newspaper in your face and the rest swarm you and try to take your wallet. I had mine hanging in a little bag. We were walking downtown when I got jumped and they tried to do the same thing to me. I started to yell and the group of five or six girls got scared. Fortunately they could not reach my documents and money because I had it tied to my neck under my shirt.
The first thing you see when you get there is the immense and famous Piazza San Pietro. The Swiss guards in red and black stripes were standing guard. We also went to the Vatican Museum. There we saw all the spectacular sites such as the Vatican, Sistine Chapel, Coliseum and a few others. In the Sistine Chapel everybody was quiet and staring at the paintings in the vault.
Since the Vatican issue their own stamps I went to the Vatican post office and bought several examples. One of them was a stamp of the pope's visit to Czechoslovakia. I gave stamps as a souvenir to the priest of Febres, Portugal when I returned to visit my parents.
In Rome we also saw the old forum, a set of ruins behind Vittorio Emanuele Monument and close to the coliseum. The forum was the commercial part of old Rome, known as the religious and political center. There was not much left, mostly of the marble was taken during medieval times.
Not far is the Mamertine Prison. Apparently Paul was buried there. I am not sure if I totally believed it. So the place did not really mean much to me.
After Rome we made our way to Naples. We chose to stay at a campsite in Sorrento. I had heard of this town because there were some restaurants in Edmonton are called by that name. It was because of the good food there we decided to try that place.
One place we could not miss going to was Pompei. The old town is at the foot of the Vesuvius . It was buried in the year of 79 . Of the 20,000 souls living there only 2000 perished. The excavations started in1748 and were still going on when we were there in1992. The doors, gates, some houses and mosaics are remarkably well preserved. I it found shocking to see some people who looked like statues, dead in their ashes.
It was an extremely hot day the day we were there. Fortunately, there is a fountain by the Caligula gate where you can fill your bottles. The avenue is called Via Mercurio.
We also wanted to go to the Vesuvius to see the crater but when I heard that you had to pay around 10 000 Italian liras to cross a fence in order to see the inside of the volcano, I was disgusted. In Italy they just charge for almost anything.
The new town has a population of about 13 000 people (1985).
We stayed in the campsite and payed almost thirty dollars a day, this was a fortune in 1992 . It had a swimming pool, which was quite nice, but what I enjoyed the most was the view over the Naples bay. We stayed in the camping Nube díArgento at least thatís what itís called today.We were on top of a cliff camping among olive trees one kilometer away from Sorrento.
One day while I was swimming on my back, I got some water in my nose and I panicked. I started to flail and get really freaked out . My wife was there but took awhile to come because she was practicing here legs only and had her hands immobilized. I finally found that I could have stood in the pool but because I was so distraught I didnít try. I am sure if my wife would not have helped me I would have died there. I only go to the deep section of pool with my wife around.
We enjoyed incredible Italian meals dowtown Sorrento, in the old section by the Sedildominava ,a sixteen century church. Overall we were pretty satisfied of our stay in Italy. We probably wished that people were more honest and things more affordable. Next we went to Spain.

See pictures of my trip

Pictures of our trip to Rome
Pictures of our trip to Sorrento
Pictures of our trip to Pompei




Willgoto, World travel directory and travel guide

Tips for your next trip